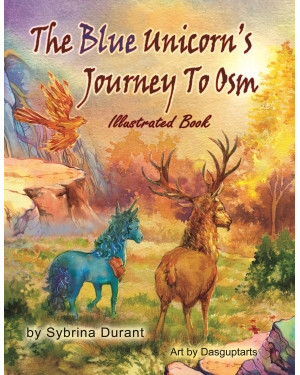 The Blue Unicorn's Journey To Osm
---
Author: Sybrina Durant
Publisher: Sybrina Publishing
ISBN: 1942740077
more from this user
Description
---
"The metal horned unicorns are doomed!" That's what Lauda Lead Horn wailed when she first saw the tribe's new savior. OK, so his horn was not metal. . .and he did not have a magic power. . .and he was really a puny little runt. But doomed? Were things really that bad?
Well, things were pretty bad in the land of MarBryn. Magh, an evil sorcerer utilized unicorn horns and hooves to create his magical potions and spells. Those he used, to increase his power and to conquer everyone in his path. All of the unicorns from the Tribe of the Metal Horn were now gone . . . except for twelve survivors.
Before the blue unicorn was born, Numen told Alumna, the aluminum-horned oracle, that he had a plan to bring the tribe back home to Unimaise. His prophecy to Alumna was, "Only the blue unicorn can join with the Moon-Star. Until then, no new unicorns will be born." Blue was the last unicorn born. Twenty years later, his horn was still covered with a plain blue colored hide. There was not a glint of metal to be seen on it or his hooves.
Everyone knew no metal meant no magic.
But Blue had a mission and he meant to see it through. He was no longer scrawny and he had his wits. Though no one else in the tribe thought he had a chance of defeating the evil sorcerer, Blue felt ready to make Magh pay for his evil deeds. And he went off to do it alone. That was Blue's first mistake. If the entire tribe was not standing horn-tip to horn-tip at the proper time and the exact place to help usher the Moon-Star Spirit into Blue's horn, he would die. Then, the rest of the tribe really would be doomed.
Blue is joined in his travels by his mentor Gaiso, the Stag and his friend, Girasol the Firebird as they try to find their way across a danger-filled MarBryn to Muzika Woods. Will the rest of Blue's tribe reach him before the Moon-Star arrives? Read this action packed adventure to learn about the blue unicorn's quest to fulfill his destiny and to save his tribe.
This book, written by Sybrina Durant and illustrated by Dasguptarts, is presented in chapter book style with lots of pictures in order to keep young readers Interest. It is meant for teen readers and up. Get the companion coloring book, too, at any online bookstore.
Synopsis
---
Blue was the last metal-horned unicorn born . Problem is - he doesn't have a metal horn. And the prophesy slated him to save his tribe. Everyone knows no metal means no magic! He is going to have to use his wits and good old common sense to achieve this loft goal. Blue has no intention of letting his tribe down.
Tagged As:
---
Genres
Fiction
Fantasy (Fiction)
Science Fiction (Fiction)
Teen & Young Adult (Fiction)
Fairy Tales (Fantasy (Fiction))
Fantasy (Teen & Young Adult (Fiction))
Coming of Age (Teen & Young Adult (Fiction))
Tropes
Spells & Magic (Fantasy (Fiction))
Intelligent Beasts (Fantasy (Fiction))
World Building (Fantasy (Fiction))
Questing (Fantasy (Fiction))
Worldbuilding (Science Fiction (Fiction))
Settings
Alternate Worlds (Fantasy (Fiction))
Publisher Notes
---
Since this book is completely illustrated, the ebook file sizes are very large and could not be uploaded to this site. I was, however, able to upload a PDF. If you would like to read the book in mobi or epub please let me know and I will get the file to you. Please keep in mind as you are reading that the printed version of this book is a picture book formatted with 2 whole pages of chapter for every 2 page illustration. The ebook is not formatted in the same fashion because most ebook screens are small and it is hard to zoom in and out of those book files. This is a fast-paced coming of age adventure with over 40 illustrations sure to please any unicorn lover. This is not a children's book. It is meant for teens and older readers because it contains some mature topics like dealing with death and some semi-violent battle scenes.
Advance Praise
---
5-Star Review from Reader's Favorite
Sybrina Durant's illustrated young adult fantasy novel, The BlueUnicorn's Journey to Osm, is an unusual and enchanting story about ayoung unicorn's quest to save his tribe and his coming of age. Durant'sstory is slyly whimsical as she builds up the world of Marbryn, a worldwhere there are many wonders, but also threats to the existence ofBlue's tribe. Dasguptarts' illustrations are masterful and glowing,filled with detail, brilliant colors and excitement. From the firstillustration depicting the birth of Little Blue through the succeedingvarious locales, challenges and adventures he braves in his quest tofulfill his destiny, the illustrations chart each event faithfully andbring each unicorn and ally to life. Durant's story is filled withaction and adventure as well as an earth-shattering battle between theforces of good and evil. She also includes a guide to pronunciation, anIntroduction to each member of the Tribe of Metal Horned Unicorns, andan anatomical guide to unicorns. The Blue Unicorn's Journey to Osm is agrand coming of age tale that's highly recommended.
Marketing Plan
---
I would love Amazon reviews but I know those are only considered reliable with verified purchases so if it's not possible to post there, I understand. I'm also to receive reviews on Goodreads, Librarything, Barnes and Nobles, and Kobo or Itunes
Other Details
---
This book is available in kindle and epub ebook formats, as well as soft and hard cover. It is also available as an audio book on Amazon, Audible and Itunes. There is also a companion coloring/character description book. I also published the book in black and white only illustrations and I am marketing that as a "Read and Color" book. It is not available in ebook format - only soft cover print.