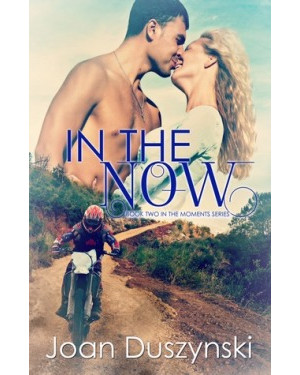 In The Now (In The Moments #2)
---
Author: Joan Duszynski
more from this user
Synopsis
---
When the heartache of what Tara Wright believed was her love and life plan with her high school sweetheart follows her into a new year. Tara begins to rely on the three new and beautiful friendships that came compellingly into her life.
Caroline, easily becoming the perfect best friend for Tara. Thru Caroline she receives the encouragingly, witty Raleigh as a new found friend as well. Meeting Adam at a time where she needs to rediscover herself has her scared and confused. Every moment spent with him has her head swirling and her stubborn walls weakening.
Adam is the man that can make her laugh, give her support, and make her heart skip a beat every time he comes into view. He's everything Tara needs to make her way back out of her stubborn shell of fear she's closed herself into.
Finally starting to spend more time together and watching Adam in his realm of adrenaline induced racing at the Motocross has Tara's weakening walls finally crumbling to the ground and singeing in the heat Adam brings to her.
Has it all just been a crazy ride to recognize true love? Can Adam fix Tara's broken heart and make her believe that their love is In The Now?
Excerpt
---
We step out and Adam glides a little way down the drive as I walk beside him. He comes to a stop, plants one foot on the ground firmly, and uses his other foot to kick start his bike. He revs the throttle back a few times and looks over at me with complete excitement in his eyes as he kicks the start back into place. He nods his head back over his shoulder. "Hop on behind me and wrap your arms around my waist. You're going to want to scoot close up against me and hold on tight, but not so tight that I can't move freely."
I step up beside him and he reaches out his hand for me to take hold as I throw my leg up and over the seat. I scoot forward enough that my center is pressed tightly up against his rear end, and wrap my arms around his waist. Even if we didn't move any further than this position right here, I would be a very happy girl.
Adam lets out a laugh. "Even though I'm really enjoying you being this close, you might need to scoot yourself back just a bit so you can actually lean and move with me. Having you're coochie pressed against my body has crossed my mind, but it might have to wait until later. Right now, you're just going to manage pushing me forward."
My cheeks feel like they are on fire and my mouth drops open. I release my arms from around Adam's waist and scoot back on the seat. "Did you just call my woman parts a coochie, and should I even ask about the wait until later comment?" I'm not going to tell him right now, but with that one simple sentence Adam has gotten me very worked up, in a very good way.
Adam looks back over his shoulder and I can tell he's smiling by the look in his eyes. "Well, I wasn't sure what type of girl you were as far as vagina terminology goes? Coochie seemed like a safe word, but I have many options you can choose from that you might prefer. There is always the common pussy and cunt terms, then there are the more original ones like; cockpit, mud flaps, love tunnel, bone cave, meat massager, theme park, dick mitten…."
I start shaking my head back and forth. "Ok, Ok, I got it. Coochie will do for now, I guess, and I will give it some more thought later as to a term I more prefer. I don't think we need to keep talking about this right now if you plan on actually showing me why I should be your biggest fan and you my favorite rider out at the races. This is just a big distraction instead."
Adam reaches back and places his hand on my knee. "Maybe it's a major part of making you my biggest fan as well as showing you that I'm meant to be your favorite rider. It can wait, though. Hold on and we can head on out toward the field."
I grab back hold of Adam and keep my coochie slid back further on the seat this time. "That might be a very strong incentive, Adam, for us both. I agree. Oh and you forgot to mention; purple people penis eater, honey pot, poody tat, stop-n-pop…."
Adam releases my leg and grabs back hold of the handle. "Ok, you're right; we will continue this conversation later on."
Tagged As:
---
Genres
Fiction
Romance (Fiction)
Contemporary (Romance (Fiction))
Erotica (Romance (Fiction))
New Adult (Romance (Fiction))
New Adult (Erotica (Romance (Fiction)))
Tropes
Friends to Lovers (Romance (Fiction))
Sweet Romance (Romance (Fiction))
Settings
Modern World (Romance (Fiction))
College (Romance (Fiction))
Publisher Notes
---
If at all possible I'd like reviews posted on Amazon and /or Goodreads. If you want teasers or anything for blog posts please message me and I'll get you what you need.