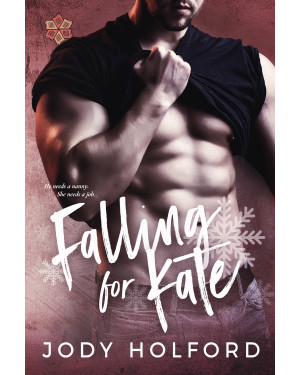 Falling for Kate
---
Author: Jody Holford
Publisher: Penner Publishing
ISBN: 978-1-944179-42-7
more from this user
Description
---
He needs a nanny.
She needs a job.
Hoping to open a clothing boutique in her hometown, Kate Aarons is ready for the next phase of her life. Before she can set her dreams in motion, she needs a job to get her shop up and running.
Tired of his ex's unpredictable and transient lifestyle, single father, Elliot Peters, wants to give his twin daughters a stable life. Going from sometime dad to full-time dad is harder than he expected. But sweet, sexy Kate could be the answer he needs.
Working for Elliot proves to be the perfect situation. But when sparks fly between them, Kate worries about finding her place in a ready-made family. Can Elliott convince Kate that forever started the second he fell for her?

Tagged As:
---
Genres
Fiction
Romance (Fiction)
Contemporary (Romance (Fiction))
Tropes
Falling For Boss (Romance (Fiction))
Friends to Lovers (Romance (Fiction))
Second Chances (Romance (Fiction))
Settings
Rural (Romance (Fiction))
Advance Praise
---
"I enjoyed every minute of Kate finding where she belongs, a sweet story full of heart and humor ♡"
-Cole Robitaille
"There are so many things I loved about Kate and Elliott's story, but my favorite thing about it was how effortless their love was for each other."
Tanya Baikie (I ♡ Books)
"If you take all the words like passionate, loving, nurturing, forgiving etc and wrapped it up in the intense emotion that radiates off of Kate and Elliott in their journey to find and help each other get to their happy place and become a loving already made family, that would be how I would describe Falling for Kate."
Julie Hillier- Reader

Marketing Plan
---
We'd love reviews on Amazon and Goodreads. This is our first holiday novella and we're super excited to share it with readers!