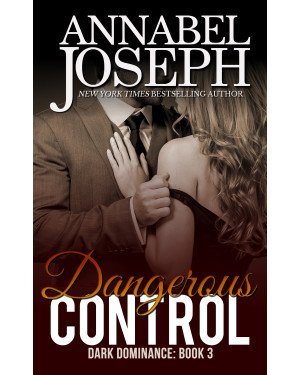 Dangerous Control
---
Author: Annabel Joseph
Publisher: Scarlet Rose Press
more from this user
Description
---
Not all fantasies are safe, sane, and consensual. Welcome to the world of The Gallery…
Milo Fierro lives for two things, dominance and music. At The Gallery, where depravity rules, he's known for his passionate desires, but on the outside, he's learned to hide beneath a veneer of dark-eyed professionalism. It's too dangerous to be himself. Most women don't understand.
Alice definitely doesn't understand. Her father was his violin teacher for years, and now that she and Milo are adults, she thinks they can be friends. The girl he knew as "Lala" draws him in with her grace and kindness, unaware of his ugly, hidden side. He can't touch her, or even stand near her. He doesn't dare reach out to her, no matter how much her talent and beauty inflames his lusts. She deserves better, deserves a man who's nothing like him…
If only she wasn't so impossible to resist.

Excerpt
---
"Alice," I whispered. "What do you want?"
"You." She said it without thought, without pause.
Because she didn't understand.
I let out a tortured breath and pressed harder against her, body to body. If we weren't clothed, I'd be inside her. I wouldn't have been able to go for a condom. I would have just thrust inside her and ridden her without mercy. Gentle lovemaking? Fuck. Even with clothes between us, I could feel myself turning to a monster, wanting to devour her, consume her, possess her with rough, unrestrained passion born of too much longing. Years of longing.
My body still tried to argue with my mind, as I pulled her thighs wider and slid my body against hers, mimicking penetration. Maybe she was into violence. Maybe she was into rough sex. Maybe she wanted a monster for a lover. Maybe she was into dungeons where submissive women served Dominant men and weren't allowed safe words.
Maybe...
Maybe I could restrain myself before I revealed the depth of my perversion, and destroyed our friendship for life. I pulled away, exerting the most effort I'd ever exerted in anything, missing her taste before our lips even parted. My whole body trembled at the physical agony of parting our bodies when I wanted her so much.
"Wait," I said. I forced myself off the couch to kneel beside her. "Please, we can't do this. If we start, things will go too far."
"I want them to." She gazed at me, her lips full and kissable. "You can't go too far. I want you, Milo…"

Tagged As:
---
Genres
Fiction
Romance (Fiction)
Erotica (Romance (Fiction))
Tropes
Friends to Lovers (Romance (Fiction))
Millionaire Playboy (Romance (Fiction))
Characters
Artists (Fiction)
Performers (Fiction)
Artists (Romance (Fiction))
Billionaires (Romance (Fiction))
Businessmen (Romance (Fiction))
Playboys (Romance (Fiction))
Wealthy (Romance (Fiction))
Settings
Modern World (Fiction)
Billionaire Lifestyle (Romance (Fiction))
Modern World (Romance (Fiction))
Publisher Notes
---
Amazon reviews, please! They help so much!