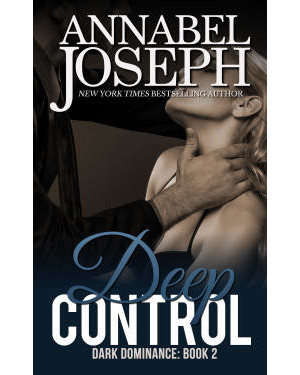 Deep Control
---
Author: Annabel Joseph
Publisher: Scarlet Rose Press
more from this user
Description
---
Not all fantasies are safe, sane, and consensual. Welcome to the world of The Gallery…
Devin's a pilot and playboy, as well as a Gallery Dominant known for his sadistic desires. Ella is a famed astrophysicist whose quiet intelligence masks a depraved longing for pain. When the two connect in a foreign dungeon, neither knows that one of them will soon save the other's life.
From such dramatic beginnings, a mutual friendship grows, along with a daring D/s relationship. Is their play merely sensual, or do their feelings run deeper? Within the opulent walls of The Gallery, Devin and Ella explore ever-expanding limits and test the boundaries of trust…
Publisher's Note: This book stands alone as part of an interconnected series.

Excerpt
---
He shook his head and walked away, going for his clothes, dressing for a flight he'd take later, a flight I wouldn't be on. He must understand that. I could never get on another plane, or a boat, or anything that would take me over the vast, unforgiving ocean that lapped this island's shore.
Tears welled in my eyes as I stepped into my panties and then pulled a pair of jeans over my sore butt. I rummaged for a fresh t-shirt, and came up with one that said Astrophysicists Do It With Large Objects, a going-away gift from my Via Sofferenza friends. I shoved that back under the pile and chose a plain, faded blue one.
"Do you mind going to your own room now?" I said. "I need to do some work."
"Yes, I fucking mind."
His sharp reply took me aback. "Are you angry with me?"
"Angry? No. Confused. A little annoyed with the way you run hot and cold." He glanced down at his shirt, also a faded blue tee. We looked like twins. He snorted and poked the air between us. "We've had sex twice now. I've fucked every one of your holes, twice without protection. I saved your life, and you don't trust me?"
"I trust you. I don't trust airplanes!"
"I'm telling you, they're safe. Air travel is the safest form of transportation, safer even than walking. What happened yesterday was a once-in-a-lifetime thing."
"Why does this matter so much to you?" I raised my voice, cutting him off. "If you want to get on a plane and fly to New York, then do it. That's fine, I won't stop you, but I'm not going. I'm staying here."
Even as I said it, I knew I sounded ridiculous. I couldn't stay in the Azores forever, only because I was afraid to fly.
"You're going with me," he said, yelling across the gap between us. After all we'd done together, all the ways he'd groped me, we couldn't seem to touch each other in our matching shirts. "I said I'd get you to New York, and I'm going to get you to New York."
"You don't need to get me to New York," I said. "I'm thirty years old. I have a doctorate in astrophysics and cosmology. I'm a grown-up person and I'll be fine."
"Grown-up people fly on airplanes," he snapped.
I took a step back, trying to understand why he made me feel so harried, so scattered. It wasn't only my fear of flying, and that he was a pilot. It was fear of him, fear of his skill at taking over my body. As we stood there, glaring at each other, I imagined gravitational waves crashing between us, red and angry and jagged. I could lose myself in him, in this man whose career was based on my deepest phobia…

Tagged As:
---
Genres
Fiction
Romance (Fiction)
Erotica (Romance (Fiction))
Tropes
Millionaire Playboy (Romance (Fiction))
Characters
Bad Boys (Romance (Fiction))
Businessmen (Romance (Fiction))
Playboys (Romance (Fiction))
Advance Praise
---
"This book has the trademark Annabel emotion, and yes it made me cry(all her books do). As you read you can feel and live what the characters do, her writing is just THAT good." ~ Aly is so frigging bored (Goodreads Reviewer)
"Gahhh!! I loved every minute of this book." ~ Bookgasms Book Blog
"I'm obsessed with this series. It's full of dark desires and sinful love. It's a must read for the reader who craves the darker side of love and sex. " ~ Tracy, OMGReads
"Deep Control is my favorite book in this series! I absolutely love the chemistry between the hero and heroine!" ~ Espresso-Girls Just Wanna Have Books
Marketing Plan
---
Amazon and Goodreads reviews preferred but all reviews are appreciated!