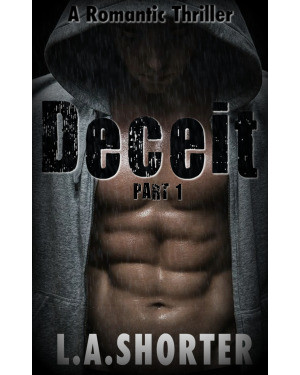 DECEIT (Part 1)
---
Author: L A Shorter
ISBN: 1503144399
more from this user
Synopsis
---
Lily isn't exactly whiter than white, even if that's what she wants the world to think of her. Under her pretty shop girl exterior, there's a darkness. A side that comes alive when she does her 'real' job – working as a trapper for a group of professional thieves.
Her job is to hunt millionaires and billionaires. To lure them back to their mansions and scout the place once they're knocked out. It's something she's good at, something she enjoys. All until her latest job goes wrong, a man gets killed, and her life begins to turn on its head.
Duke wears a mask during the day, one he takes off at night. His world isn't the spreadsheets and suits and meetings that he's forced to endure. It's the world after dark he truly inhabits. A world of alcohol and women and fighting. A world he enters in order to rebel.
When he meets Lily after his latest scrap outside a nightclub, he thinks nothing of it. When he sees her the next day working in a local shop, he begins to get interested. And when she comes to him for help, he feels obliged to say yes. Soon, however, their lives will intertwine even more than either of them know.
DECEIT is a new adult romance series by L.A Shorter, told from the double perspective of Lily and Duke. It will be told through several parts, each the length of a novella. Part 1 is roughly 22,000 words.
Tagged As:
---
Genres
Fiction
Romance (Fiction)
Contemporary (Romance (Fiction))
Serial / Series (Romance (Fiction))
Tropes
Different Worlds (Romance (Fiction))
Innocent Bad Girl (Romance (Fiction))
Tycoon (Romance (Fiction))
Characters
Bad Boys (Romance (Fiction))
Billionaires (Romance (Fiction))
Settings
Modern World (Romance (Fiction))