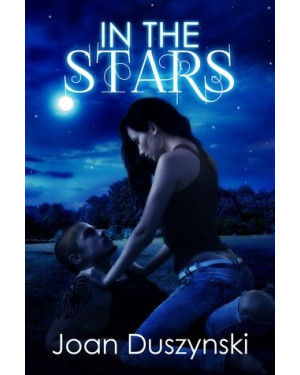 In The Stars (In The Moments #1)
---
Author: Joan Duszynski
more from this user
Synopsis
---
Caroline Reyes is starting her second year of college nothing like the first. Following a car accident over the summer with her best friend Raleigh she is now stuck with a bitch for a roommate as Raleigh recovers at home.
One Saturday morning starts off with a bang, literally at Caroline's door and leads to her needing to comfort a very distraught stranger. This brings Caroline into her first run in with Eric. She feels completely lust driven at just the sight of him, even though his words just piss her off. She can't shake the sensations running thru her though even after their brief meeting is over. Then comes Kyle and he is determined to get to know Caroline better and she feels the same way dismissing her earlier run in as just crazy hormones.
Now she is left with decisions having to be made and knowing someone is going to get hurt in the process. That someone could be her alone.
Caroline has always looked into the stars for comfort and reassurance since she was a little girl with her Daddy. Now she is looking up into them praying for the right answers and hoping they can help her along with her Daddy who is amongst them now.
Excerpt
---
As I am walking out the door, one more important thing crosses my mind—condoms. I am on the pill, but I always use condoms. Since I haven't been with any one in six months, I am currently out. I can't believe I was so close to having sex with Kyle on Thursday, and I didn't even think about them. He most likely has some, but why chance it. I am going to have to make a stop at the drug store on the way to his house.
Once I am about half way to Kyle's place, I pull into a drug store lot. I am standing in the aisle, reaching out to grab a box of condoms from the hook, when I hear his voice. It is coming from directly behind me, and the deepness of it gives me chill bumps up and down my arms.
"Out taking care of some shopping are we, Caroline?" I have now dropped the box onto the floor. I can feel the heat running through my body from Eric's closeness to me, yet my arms are still covered in chill bumps. I turn to face him, and he reaches down, picking up my little black and gold box, and handing it over to me.
I reach out with shaky hands and take the box from him. I can't seem to form any words at the moment either. My eyes roam, taking in the full sight of Eric. He is even more delicious than I remembered. Those emerald eyes that are looking right at me have starred in many of my dreams over the past week. I notice he is in black slacks and a button up shirt with his sleeves partially rolled up. He also has his gun, cuffs, and badge hooked to his belt. Eric raises up one of his eyebrows and looks down toward my arms. "Are you cold, Caroline? You are covered in chill bumps. Maybe you should be wearing a coat; although it would be a shame to cover that top you have on."
How embarrassing is this moment? I shake my head and finally find my voice. "I just came in for a quick purchase, then I'm headed right back out to my car. I didn't want to have to bother with a coat. What are you doing here, anyway?"
He steps a little closer, then takes the box from my hand, looking it over. He then gives me a quizzical look. "I guess it is good to know you are being safe, Caroline. Are you sure these are the kind you will be needing, though? They do come in different size needs. I wouldn't want you taking any chances embarrassing the boy if these don't fit right."

Tagged As:
---
Genres
Fiction
Romance (Fiction)
Contemporary (Romance (Fiction))
Erotica (Romance (Fiction))
New Adult (Romance (Fiction))
New Adult (Erotica (Romance (Fiction)))
Tropes
Love Triangle (Romance (Fiction))
Characters
Police Officers (Romance (Fiction))
Settings
Modern World (Romance (Fiction))
College (Romance (Fiction))
Publisher Notes
---
If at all possible I'd like reviews posted on Amazon and /or Goodreads. If you want teasers or anything for blog posts please message me and I'll get you what you need.