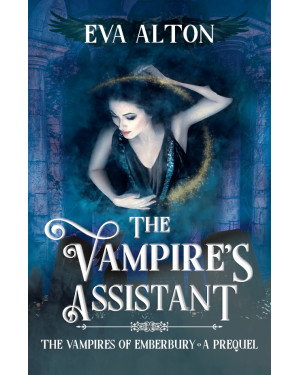 The Vampire's Assistant: A Paranormal Vampire Romance and Fantasy Novella
---
Author: Eva Alton
Publisher: Independently Published
ISBN: B087D6Z3DG
more from this user
Description
---
The mystery of an empty grave leads Julia to find magic and love among the creatures of the night.
When Julia asks her deceased husband to take her with him, she doesn't expect an answer. But when it's vampires who hear her request, she's given a choice: follow her husband to the hereafter… or remain in this world and assist the undead.
Darkness, magic, blood and love beneath a graveyard… a vampire romance novella about a woman who dreamed of science, but found magic instead.
The Vampire's Assistant is a short urban fantasy / paranormal vampire romance with hints of mystery.
Excerpt
---
"We might be able to help," Francesca said, taking Ludovic's hand in hers.
"The last time you tried to help me, you almost drained all the blood in my veins, so no thank you," I said, wrinkling my nose.
The way she smiled back, it was clear that she felt no remorse whatsoever.

Tagged As:
---
Genres
Fiction
Action & Adventure (Fiction)
Fantasy (Fiction)
Romance (Fiction)
Paranormal (Fantasy (Fiction))
Paranormal (Romance (Fiction))
Women's Adventure (Action & Adventure (Fiction))
Tropes
Spells & Magic (Fantasy (Fiction))
Characters
Vampires (Romance (Fiction))
Wizards (Romance (Fiction))
Settings
Modern World (Romance (Fiction))
Modern (Fantasy (Fiction))