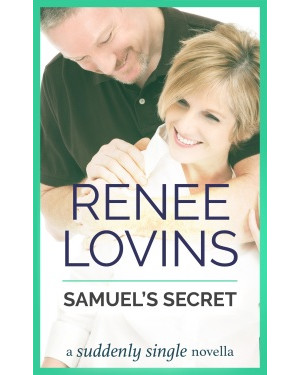 Samuel's Secret
---
Author: Renee Lovins
Publisher: Bad Ash Publishing
more from this user
Description
---
Running from the death of his wife, Samuel has started over, new town, new job, new life. Trying to keep himself occupied he applies for a job as a dummy at a local martial arts school. The fact that the owner is cute and he is interested in a woman for the first time in a long time is a bonus.
As he tries to build this new life he hides his past, not wanting the sympathy or the reminder. He keeps it hidden trying to put that part of his life behind him.
But when the truth comes out, will he lose everything?
Excerpt
---
Kristine tilted her head for a minute, then nodded as if something clicked in her head, and I braced myself, waiting, but she just leaned against her car looking at me.
"So I suppose I should go," the offer from her was soft, and my throat tightened. That registered as the last thing I wanted.
As earlier, I moved before my brain could think about my actions for too long and chicken out. I took a single step forward and wrapped my arm around her waist pulling her to me. The hold secured her, but she could have pulled away, if she wanted.
She didn't, she leaned into me and met my lips before I finished moving. All the sensations slapped me again and I buried my other hand in her hair, holding her tight as my mouth covered hers. She opened her mouth under mine, and I accepted the invitation. I deepened the kiss and her arms wrapped around me, holding me as close as I held her.
The moan of need, both for her and for the feeling of having a healthy interested woman in my arms, slipped out of me and was swallowed in our kiss.
Eventually the need for oxygen pulled us apart and she looked up at me, her eyes dilated, lips swollen, and I could feel her fingers digging into my arms. The sharp sweet pain felt wonderful.
"Damn, I'm so going to climb you like a tree," she muttered and I burst out in laughter, sagging a bit from the whipsaw of emotions. "But, not tonight dammit." Her fingers relaxed on my arms, and I missed the strong grip immediately. Kristine pulled back a bit, and it cheered my heart to feel the same reluctance in her as I had to let go. She felt right, she fit right, and I loved being in her company. In our outings and talks we'd discovered a lot in common, and she had become the highlight of my week already.
"You are welcome to start climbing whenever you want." I said, even as I stepped back from her.
Another flashing smile as she opened her car door. "So, shopping tomorrow?"
"Yes, that would be great."
"I'll call you then. Thanks for a great night, Sam."
"You're welcome. I know I enjoyed."
I waved good bye and headed home, feeling like that last kiss had given me a high I'd never felt before. I still floated as I walked into my kitchen, looking for some water. I spent the evening letting myself daydream, imagining being with a woman. The alcohol didn't even call to me that night.
Tagged As:
---
Genres
Fiction
Short Stories (Fiction)
Romance (Short Stories (Fiction))
Publisher Notes
---
Suddenly Single series is written by Maggie Finalist Renee Lovins. This series explores finding love again after your spouse dies. It is a romance series with no explicit sex, focusing more on love, and taking the risk of opening your heart again.