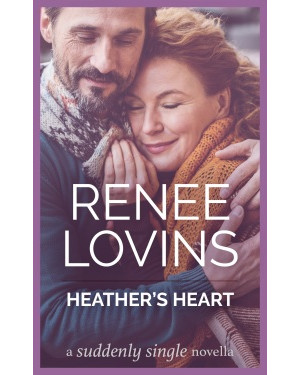 Heather's Heart
---
Author: Renee Lovins
Publisher: Bad Ash Publishing
more from this user
Description
---
Widowed doesn't mean unlovable, but can you love two men?
After her husband died, the last thing Heather thought about was dating, much less falling in love again. When minor fender bender brings Chris into her life, she is reminded that love isn't a once in a lifetime thing. When another car accident throws her into his arms, she will have to decide if it is worth the risk to love again.
Suddenly Single series is written by Maggie Finalist Renee Lovins. This series explores finding love again after your spouse dies. It is a romance series with no explicit sex, focusing more on love, and taking the risk of opening your heart again.
Synopsis
---
Widowed, Heather moves through life on automatic. When she backs into the car of a young girl, the last thing she expects is the attractive man who is her father. When he askes her out, she says yes - to her own surprise.
Dating is harder than she remembered, but Chris is warm, and nice, and it feels so good to be wanted again. Trying to achieve a balance between missing her husband and exploring this new option, Heather starts to remember how to live again.
Moving on with life is hard, but when you throw in a teenage daughter, car accident, and a grieving mother in law, is opening her heart again worth the cost?
Excerpt
---
John's death, sudden and unexpected, I had handled. I survived without him, and everyone told me how well I was doing. I didn't feel that way. Most of the time I felt like an empty shell that followed the same old paths without any interest as to where they led. But this, this was new, different, terrifying, and alive in a way I hadn't since I received the call that he had been killed.
There weren't any more text messages, which disappointed me, but then I didn't send any either. I kept reaching for the phone, then would chicken out. Dating sucked, why in the world was I doing this to myself?
The phone ringing Friday night pulled me out of a star nation fighting an enemy. A smile I didn't even try to stop blossomed as I saw Chris's name on the caller id.
"Hi," I answered, and then winced as I realized I sounded like a breathless teenager. Not my goal.
"Hey. I wanted to make sure we were still on for the movie tomorrow."
My stomach clenched tight. "Yes. I mean as long as you still want to."
A deep sigh came from the other end, and my stomach turned to ice.
"Yes. I do. I was worried a bit that you had changed your mind. Did you want to get dinner instead of coffee? And which movie theater would be better?"
I leaned back, the rush of relief scaring me. Did I want this that badly? Or did I just want to be wanted? Or did it matter?
"Movie first, then maybe snacks after?" That way if it was a disaster we weren't stuck either of us could cancel and not then be committed.
"That sounds fine." We finished making plans, the entire time my stomach acted like it had been infested with Mexican jumping beans.
We hung up and once again I realized I really didn't have any date clothes.
I've got another date.
The mental thought was laced with both excited and astonishment.
Publisher Notes
---
This series only has closed door sex. The sex isn't the important part of these stories, taking the risk to love again is.
Advance Praise
---
5 stars
Believing in the power of love
January 5, 2018
From Heather's view you see so much hurt that everyday survivors face. I love the true quality of emotions and the backgrounds Renee creates.
Marketing Plan
---
Kindle Unlimited for 90 day's then wide and Radish depending on results.