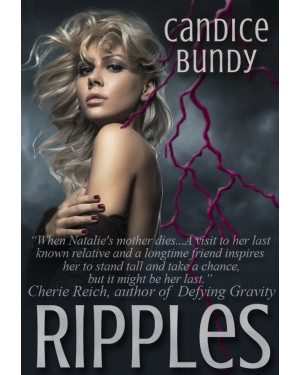 Ripples - A Novella
---
Author: Candice Bundy
Publisher: Lusios Publishing, LLC
ISBN: 978-1521149324
more from this user
Description
---
Natalie is grieving the recent loss of her mother when she starts seeing rifts in space that lead her to question her own sanity. These bizarre rifts reveal windows into another reality, opening up possibilities Natalie never before imagined...if she believes in them. Is she losing her mind due to grief, her genetics, or could she actually have stumbled upon a true mystery of the universe?
Tagged As:
---
Genres
Fiction
Non-Fiction
Short Stories (Horror (Fiction))
Short Stories (Fiction)
Paranormal (Fantasy (Fiction))
Action & Adventure (Fiction)
Occult & Paranormal (Non-Fiction)
Fantasy (Fiction)
Horror (Fiction)
Tropes
Paranormal Happenings (Fantasy (Fiction))
Occult (Fantasy (Fiction))
Characters
Female Lead (Action & Adventure (Fiction))
Settings
Modern World (Fiction)
Alternate Universes (Fiction)
Marketing Plan
---
It would be appreciated if you could post your reviews on Goodreads and Amazon.
When posting a review on Amazon, readers/reviewers should state something like this, "I received this book from the author for an honest review." This is needed because Amazon implemented procedures. If they notice a review was posted and the reviewer did not buy the book from Amazon, they will delete it. The quoted comment overrides this.
Of course posting on any other social sites would be fantastic! Example: Facebook, Barnes & Noble, or your Blog.