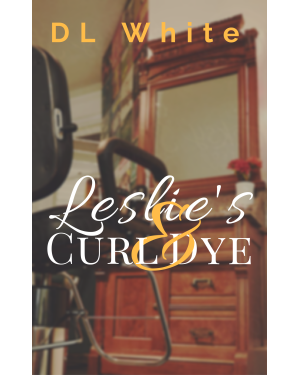 Leslie's Curl & Dye
---
Author: DL White
Publisher: Kindle Digital Publishing
more from this user
Description
---
"Of all the places you could have ended up, why are you here? Why didn't you go home?"
"This is home. I'd think you would be happy to see me here, establishing a business, putting down roots."
"When your roots pull mine out, we have a problem."
Falling in love in a small town is tricky.
Falling in love with the man who's putting you out of business is trickier.
Leslie Baker, owner of Potter Lake's original hometown beauty shop, the Curl & Dye, has a muscular, handsome, 6'4" problem. Her college sweetheart, former basketball superstar Kade "KC" Cavanaugh, is back in Potter Lake following his NBA retirement and the business he's opened, a slick and shiny co-ed salon directly competes with Curl & Dye.
KC is all too eager to pick things up where they left off fifteen years ago, but Leslie can't forget how he pushed her away after an intimate encounter, then dropped out of college and left her behind for the bright lights of professional ball. Though she won't admit it, time and maturity have eaten away at Leslie's anger and her long-buried attraction to Kade Cavanaugh has resurfaced.
With a vengeance.
Now there is a larger problem: Leslie and KC find themselves in the center of a city wide drama, and with both sides of Potter Lake at war and their livelihoods at stake, the two have to stop sniping at each other and start working together.
And maybe forget the past and revive a budding romance that was very special... a very long time ago.
Excerpt
---
"This is my neighbor's daughter and her friend, Tamera and Leslie. Ladies, this is KC."
"I uh..." I cleared my throat, nodding at both ladies. "We ... uh -- "
"What KC is trying to say is that we're old friends," snapped Leslie, flinging her locs over one shoulder. She always did that hair flip thing when she was good and mad. "And I use the word friend very loosely."
I swallowed, hard. Then swallowed again.
I hadn't expected to see Leslie again. Not here in this town, and not in this lifetime. It had been at least fifteen years since she stormed out of my dorm room after I'd broken the news that I was dropping out of Healy and going for the NBA draft. I'd tried to talk to her before I left school and I sent her a few letters while I was on the road. My calls went unanswered and all my letters were returned, unopened. I took the hint and stopped reaching out and I was pretty sure that I'd never seen her again.
Leslie had changed, but in a lot of ways, she was the same girl I remembered-- iconic long hair, except in locs now; creamy brown skin, big doe eyes, full juicy lips.
I remembered those lips.
With her hand on the generous curve of one hip and one leg kicked out, I had full view of her open toed sandals and fiery red pedicure. She wore a pair of leggings and a fitted tee shirt. Cute and casual, like she wasn't dressed to impress anyone but herself. She was always so casually sexy.
I liked that back then. Actually, I liked it a lot now.
"What's up Les?" I gestured at her, showing my sauce covered hands. "I'd give you a hug, but I dug in and I'm a mess."
I pointed to the other girl, the short-haired one with the matching frown. "Tam... it's been awhile. Good to see you."
"Cut the crap, KC," Tam spit at me. She propped a hand on one hip and gave me the up-and-down with an evil eye.
"Whatever, Tamera." Tam and I were never good friends. The few times I hung out with her and Leslie, we butted heads all night long. She didn't think Leslie should be spending so much time with me and made her opinion known often. "So... what are y'all doing here?"
"Your neighbor was kind enough to tell us about how our shop was closing down and asked if we'd like to meet the owner of Guys N' Dolls and see if we could get jobs there." Leslie's lips pursed into a tight little bow.
"Oh. Okay. Yeah, the Mayor said everything was pretty much dried up on that side of the lake. I didn't know...that uh...."
I coughed, trying to give myself a minute to breathe.
"So you took over your mom's shop?" I asked Leslie, then directed my attention to Tamera, who was still shooting daggers at me. I kind of wanted her to back up a little bit. "How long do y'all think you'll be open? I mean, I guess I'm asking if y'all will be looking for salon positions soon. I need more female-- "
"Leslie's Curl & Dye is not closing any time soon, KC. Your shop is already stealing my clientele. There's no way you're taking my stylists too."
The realization that I was staring at competition I didn't even know I had I hit me like a ton of bricks. I offered the ladies a wide, friendly grin. "Look, I'm not really trying to put Curls and... whatever out of business-- "
"Leslie's! Curl! And Dye!" Tamera shouted the words out at me, with foot stomps to match. "Memorize the name. Wait a minute, you won't have to, because we are going to be all. up. in. your. business."
Tagged As:
---
Genres
Fiction
Romance (Fiction)
Women's Fiction (Fiction)
African American, Multicultural, Interracial (Romance (Fiction))
Tropes
Enemies to Lovers (Romance (Fiction))
Second Chances (Romance (Fiction))
Small Town Hero (Romance (Fiction))
Marketing Plan
---
Please post reviews to Goodreads and Amazon, as well as any blogs you may run. MUCH appreciated!