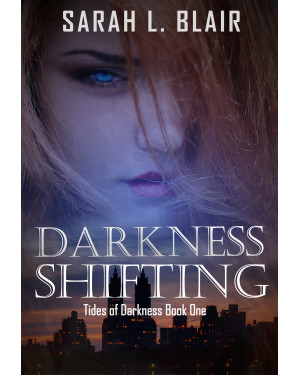 Darkness Shifting: Tides of Darkness Book One
---
Author: Sarah L. Blair
Publisher: Rock Manor Studios
ISBN: 0692728333
more from this user
Description
---
Paranormal Investigator, Sidney Lake doesn't jump at shadows. The weird stuff is her jurisdiction. When the mangled body of a supposedly extinct creature turns up in New York City's subway system, she's number one on the Medical Examiner's speed dial.
But this case hits too close to home when clues point her toward the truth about her parents' brutal murder twelve years ago. Her boss Mitchell Harris, questions whether she should continue to investigate. However, Sidney insists on facing her greatest fears and putting her parents' memory to rest once and for all.
What she uncovers sheds a light on secrets that reach further into the darkness than she ever wanted to go… and leads her to a future she never imagined.
Excerpt
---
CHAPTER ONE
She smelled it before she saw it.
Like always, the stink of the crime scene crept ahead of the gory view. Sidney Lake knew this one was bad; the meaty smell of torn flesh, the copper scent of blood, mixed with the tinge of electricity buzzing from the third rail of the subway tracks below, the putrid smell of an opened bowel swirled with the filth of scavenging rats.
It all made her very glad she hadn't had time for breakfast. She'd rolled out of bed, thrown her trench coat over jeans and a black sweater, slipped on her favorite black steel-toed boots, and come straight down.
"Sorry about the late hour," Dr. Tom Fellows said.
New York City's Medical Examiner lifted the yellow caution tape marking off the crime scene to let Sidney under.
"It's not late anymore. It's early." She grabbed the paper cup of coffee out of his hand and took a slug. It was cold and sour. She gagged. "Ugh. How long have you been down here, anyway?"
"Too long." The medical examiner took his cup back, finished the last swig, and tossed it in a wire trash can.
Tom would have made a good linebacker thirty years ago, if he'd been taller. Instead, he'd chosen the lab over sports. Now his shoulders had a curve to them that never went away. A result of decades of being hunched over a table dissecting cadavers.
"What have you got?" Sidney asked.
"I was hoping you could tell me," Tom said.
He removed his glasses, rubbed his eyes, and perched them on his nose again as they made their way down the long connecting corridor toward a part of the subway most New Yorkers never bothered taking the time to see: the abandoned City Hall Station. It was the first subway stop opened to the public in 1904, legendary for its intricate mosaics and architecture.
"You're the medical examiner. I thought identifying bodies was part of your job description."
The fluorescent lighting bounced off the white tiles and she figured it was no wonder Tom had lost track of time. The stark and seemingly endless tunnel reminded her of the hallways at the morgue where she was used to watching Dr. Fellows work. Except the Office of the Chief Medical Examiner didn't have graffitied ads for one-time use toothbrushes and torn up movie posters plastered in the hallways.
Tom gave her a lopsided grin. "Wouldn't have called you in for any run-of-the-mill homicide, would I? The weird stuff is your jurisdiction."
Tagged As:
---
Genres
Fiction
Mystery, Thriller & Suspense (Historical Fiction (Fiction))
Crime & Legal (Mystery, Thriller, Suspense (Fiction))
Urban (Fantasy (Fiction))
Action & Adventure (Fiction)
Romance (Fiction)
Fantasy (Fiction)
Historical Fiction (Fiction)
Paranormal (Romance (Fiction))
Arthurian (Fantasy (Fiction))
Mystery, Thriller, Suspense (Fiction)
Tropes
Falling For Boss (Romance (Fiction))
Instant Attraction & Imprinting (Romance (Fiction))
Love Triangle (Romance (Fiction))
Paranormal Happenings (Fantasy (Fiction))
Characters
Aristocrats (Romance (Fiction))
Historical Heroes (Action & Adventure (Fiction))
Bosses (Romance (Fiction))
Gods & Goddesses (Fiction)
Devils & Demons (Fiction)
Detectives (Fiction)
Female Detectives (Crime & Legal (Mystery, Thriller, Suspense (Fiction)))
Knights (Romance (Fiction))
Knights (Fiction)
Monsters (Fiction)
Female Lead (Action & Adventure (Fiction))
Werewolves & Shapeshifters (Fiction)
Paranormal Heroes & Villains (Action & Adventure (Fiction))
Settings
Modern World (Fiction)
Urban (Fiction)
Low Magic (Fantasy (Fiction))
Arthurian (Fantasy (Fiction))
Advance Praise
---
"Xfiles plus Buffy plus King Arthur equals PERFECT
This book has it all for lovers of urban fantasy, science fiction, romance and legends. Blair weaves all those threads together seamlessly! Sidney is a very real and likable heroine. A must read this summer!" Amazon Review
"It was hard not to like this book. It had a fresh approach to werewolves and the supernatural in general, and the right mix of both sexual and emotional tension. The combination of very early history including the idea of a goddess, with the present allowed the plot to work really well because it was kept simple. It gave the plot a believable edge.
It is the writing which carries this though. There is a nice easy flow, some well-rounded characters that are very appealing, and the complex romantic situation maintained interest without any unnecessary angst, and as the situation intensified it also caught our emotional attention. This was all writing style." Amazon Review
"This book is so much more than your average paranormal fantasy/sci-fi book. The addition of Arthurian legend into the narrative was a refreshing take on the genre. I love that this isn't just a book about werewolves, demons, and other supernatural creatures. It dives into the history of King Arthur and other characters from the legend, and Blair weaves these elements into the story flawlessly. I'm always excited about a story when its mythology is as intricate as it is in Darkness Shifting.
There is somewhat a love triangle in this book between Sidney, Dimitrius, and Mitch, Sidney's boss. While I normally shy away from love triangles, I couldn't find it in me to dislike Mitch. He's just all around a good guy, totally head over heels for Sidney, and he truly wants what's best for her. Plus, Sidney didn't really spend the book being super torn between these guys. She remained pretty loyal to one guy and I respected that about her. Even if you're not a huge fan of love triangles, there is something about this one that sets it apart from others.
Overall, this series is off to a wonderfully strong start! It's got a distinct and relatable cast of characters, rich mythology, intense action, and great twists. The overarching mystery of what happened to Sidney's parents and how she fits into what's going on in the city is intriguing and suspenseful, and there are moments of heartbreak that add weight to the story. Oh, and of course there's romance (and heat!) to spice things up. The ending both satisfies the reader and teases greater things to come." GraveTells.com
"This book was so engrossing I nearly missed my tram stop!" Amazon Review
Marketing Plan
---
My biggest goal right now is developing relationships with bloggers and readers of UF and PNR.
I'd also really like to grow my Amazon and Goodreads reviews, so I'd appreciate any love I could get on those platforms. Thanks!
Other Details
---
I wrote the book I wanted to read. It combines elements of Arthurian Legend with modern day Paranormal New York City, a thrilling murder mystery, and a hefty serving of steamy romance.