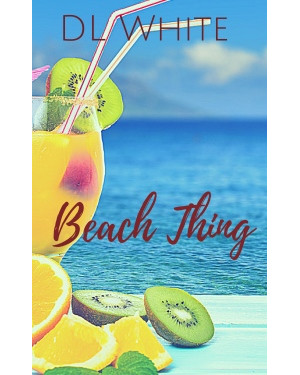 Beach Thing
---
Author: DL White
Publisher: Kindle Digital Publishing
more from this user
Description
---
Wade Marshall, super producer to one of hip hop's brightest stars, was supposed to spend the summer on Black Diamond getting away from the rush of Brooklyn, ridding himself of the distractions that had been impacting his work so he can do what he does best - make beats. But the day he meets Ameenah, he becomes consumed by an entirely different and more attractive distraction--his bold, beautiful, sexy neighbor with the "glorious hips" and a penchant for ice cream.
Ameenah Porter, daughter of successful New York restaurateurs, moves to the beach town of Black Diamond to fulfill her dream of opening a smoothie shop. She doesn't need the distraction of a new man but the tall, dark and handsome Wade, who's staying in the giant sized home at the end of her block, is irresistible.
Ameenah's days at Tikis & Cream are spent cooling off her customers with her gourmet smoothie blends. Her nights on the shores of Black Diamond Bay are enchanting and romantic, and soon Wade and Ameenah find themselves in the middle of a Beach Thing... a fun, meaningless tryst that will end when the summer is over.
Or will it?
Wade is returning to Brooklyn at the end of the summer. Ameenah lives on Black Diamond. Neither want this Beach Thing to end... so is this fling really a fling or is it the beginning of something real... and will they realize it in time?
Indulge in a fun, steamy #beachyblackromance and join me on Black Diamond.
Excerpt
---
"Wade..." she finally whispered, her voice a little ragged from the two Amaretto sours she'd had. "I'm... I don't know what's happening right now. And I don't know if I should fight it or let it happen. And I don't even know if you know what I'm talking about."
"I know." I gripped her hand and scooted closer, dropping the other arm around her shoulder. "I know exactly what you're talking about. And I don't know what's happening either but even if I could fight this, I don't want to."
"I... I just... you know, you--"
"I'm only here for the summer. And I'm some big important famous guy that lives in Brooklyn Heights. And I like orange flavored things. Right?"
She huffed a laugh, those pretty brown eyes rolling hard. "Okay, it's that last part. It's not that you're only here for a short time. It's not that you live in some fancy, rich, expensive neighborhood." She leveled her gaze at me and batted her eyelashes. "It's your unnatural obsession with orange flavored things."
"I feel like that's something we can work out."
"Yeah. But...there's the other thing that's kind of important. And a few days ago, you said you had a hard time trusting women and not knowing their motivation. And that worrying about that is a distraction for you. I don't want to be a distraction."
"Ameenah--"
"And I don't need one, either. I might have made it here but I still have a lot of work to do to call myself a success down here. I have a lot to prove, to myself and to my family. I risked a lot to move here."
"I get that. I'm not trying to be a distraction to you and if I am, I'll step back. But before I do, maybe we could just... have some fun."
"Have some fun?" Her eyebrows rose and her head cocked to the side.
"Not like you think I mean. I'm saying...we get along, we like each other. You impress the hell out of me, and that's saying a lot. I'm not going to be here long term but... as long as I am here, I'd really like to spend more time with you."
"And... have some fun." This time, her eyes were narrowed but her lips were bent into a smile. A small, sultry smile.
"And have some fun. A little beach thing. When the summer's up....so are we. But in the meantime..."
"A beach... thing." Her bottom lip crept between her teeth.
"Hold up," I said, gripping her chin and tipping her head up. "Let me take care of biting that lip for you."
Tagged As:
---
Genres
Fiction
African American & Multicultural (Fiction)
Romance (Fiction)
Contemporary (African American & Multicultural (Fiction))
Tropes
Friends to Lovers (Romance (Fiction))