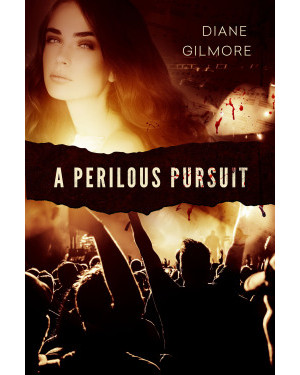 A PERILOUS PURSUIT
---
Author: Diane Gilmore
Publisher: Soul Mate Publishing
ISBN: 978-1-68291-320-8
more from this user
Description
---
What happens when the glitzy, high-pitched environment of the music industry collides with the dangerous world of drug smuggling?
L.A. music insider Taylor Fairchild, who travels to London to escape a hectic work schedule and failed marriage. Hardening her heart to desire, the last thing she wants in her life is a lover, until she meets Craig Phillips, a local pub musician looking for his band's big break. For Taylor, Craig claims her heart and eases the pain of the past. Yet little does she know this powerfully handsome man leads a dangerous double life as a top drop man for powerful drug kingpin Robert Cabrera. Their newfound love burns high with sweet excitement in the States as Craig climbs the charts as America's newest rock star...until Craig's shady past catches up with him and threatens their love as well as their very lives. A terrifying game of lies, murder, and a vicious drug lord bent on revenge take the story to Mexico, where mystery, danger, and the twisted politics of the dope dollar bring out long-buried secrets from the past which soon engulf all the characters in an unexpected finale.
Synopsis
---
Overworked and burned out from a bitter divorce, L.A. entertainment executive Taylor Fairchild escapes to England for a break. Hardening her heart to desire, the last thing she wants is a new lover, until she meets a sexy musician whose voice and face consume her thoughts. Forgoing the vacation, Taylor is determined to lure the charismatic musician into a contract.
Craig Phillips has spent years chasing the London music scene with his band, Fury, but his big break into the music business alludes him. Desperate to supplement the band's income, he serves as a drop man for powerful drug kingpin, Robert Cabrera. At a popular London nightspot, Taylor meets Craig and sees in him the charisma and talent that could generate big public acceptance and a handsome profit for her company. Their relationship blossoms both professionally and personally as Craig, determined to get out of Cabrera's "Organization" for good, breaks free of his drug ties to return with Taylor and pursue a music career in the States.
Meanwhile, after a drug crackdown in London, Robert Cabrera flees across the pond to his retreat in the rugged hills of Mexico. He resumes his lucrative drug smuggling operation under the blind eye of the Mexican authorities, who are paid to look the other way. He discovers Craig's whereabouts quite by accident and his connection to his old enemy, Bruce Fairchild. He hatches a scheme to seek revenge against Fairchild and force Craig back to the Organization to do the job.
In alternating scenes, Craig falls back into the depths of the drug underworld through his relationship, now unpleasant, with Robert Cabrera. When his brother turns up missing, Craig is forced to travel to Mexico, where he is "informed" of Cabrera's plot against Fairchild. Cabrera blackmails Craig to agree to the plan by keeping his brother, who is held captive in the house. Forced to work on his poppy farm while awaiting further instructions, Craig endures subhuman conditions and experiences the violence and twisted logic of his fellow prisoners who harvest what will be the next crop of high-grade heroin.
When Taylor suddenly finds out the circumstances of Craig's disappearance, she sets out to Mexico to investigate on her own and find the love of her life. There she meets and falls under the spell of Robert Cabrera himself. Cabrera invites her to stay at his home for as long as she wishes to help in her search. Not realizing who he is, Taylor is grateful for his generosity, but Cabrera, attracted to her style and beauty, already has other plans.
Craig, alerted to Taylor's presence, manages to flee from his captors to find her. Later Taylor learns that Cabrera is the drug lord behind all the trouble that has occurred and confronts him with what she knows. Cabrera doesn't dispute the facts, but now forcefully exhibits amorous intentions toward her. She manages to escape and, while running outside, finds Craig. They attempt to flee together but are found outside and forced back into the house. The stage is now set for the dramatic confrontation between old friends, and the hostility which unlocks long buried secrets of the Fairchild and Cabrera families.
Excerpt
---
Taylor chose the window seat and sank comfortably down on the cushions. Craig joined her with the two filled glasses. He turned on the computer and queued some of the audio files, then sat down beside her, letting his arm circle her shoulders when the music began. The sound came out of four speakers placed in the corners up near the ceiling of the room.
Taylor heard Craig's alluring voice, the same smooth, compelling voice that not only charmed her, but which she knew had the potential to captivate an American audience.
Many of the songs were upbeat pop tunes, the kind Taylor felt Fury would thrive on. Then the livelier songs gave way to slower, more bittersweet melodies. They were deeply emotional rock ballads—bluesy, haunting tunes that were filled with both desperation and heartache about a present situation, yet an optimistic hope for the future. The songs, some stretching to nearly seven minutes in length, had an undercurrent of a sadness, a yearning for loyalty and sincerity. Still others told of the euphoric joy of being in love. They were all spellbinding.
After a time, Taylor said, "I had no idea you could write ballads like that, Craig."
"Do you like them?"
Taylor shook her head in amazement. "I love them. They have a spark that seems to speak right to you, even though you've never heard them before. Yet, you can't forget the melodies after you hear them. It's a different style of sound."
Suddenly another familiar tune began to play.
"That one's my favorite," Taylor remarked, pointing absently toward the computer monitor. "I remember it from Soho the other night."
"That's 'Love Moods.' I only wrote that recently."
"It's a very touching song," Taylor reflected. "The melody is slow, yet very emotional. It could melt a heart of stone."
"That song, as well as the other ballads, wasn't exactly written on one of my better days."
Taylor looked at him thoughtfully. "Now I detect a hint of bitterness in your voice. Any special reason?"
Craig shrugged absently as he looked out the window. "Songwriting has always been my refuge, the means of expressing my feelings because I had no one else to express them to. I wrote most of the lonely-hearts club stuff when I was feeling alone and trapped. You can hide pain in the weirdest places."
He shifted so he faced Taylor directly. "Have you ever felt that way? Alone and trapped?"
Suddenly Taylor saw another face of Craig Phillips, a side she, too, possessed.
"Why would you ever feel that way?" she asked.
"For the same reasons that you do," he said, looking deeply into her eyes. "You are surrounded every day by your clients and your business associates just like I'm surrounded by shallow hangers-on, but we both have no one. We're in the middle of a swirling vortex. Everybody else is enjoying themselves, but we're watching them spin around us, not able to break in and join them. I can see it in your eyes, Taylor. You've been there, too."
His statement hit her like a blow to the gut, as if he had somehow reached in and ripped away the veil of her inner self to see her soul fully exposed. He was right, but could he know? She didn't answer right away while her senses recovered.
"So, how do you deal with it?" she finally asked.
"I write music," Craig said. "I write and I keep on writing. I go deeply into the feeling and get as much out of it as I can. I've written some good stuff in times like that, even though it's the last place on earth I want to be."
In the soft, semi-dark silence of his apartment, the outside sounds of the city seemed to fade away. He looked directly at Taylor. "I've been walking a lonely road out there for awhile, but I think someone has found me."
He searched her eyes for a long moment, as if beckoning her spirit to be one with him. His hand reached out and lovingly caressed her hair, her face. His fingertips felt like tiny sparks on her skin as his thumb traced little circles on her cheek.
"You look beautiful sitting there," he said in a low, seductive voice.
As if in slow motion, he leaned forward and lightly touched his lips to hers. When she didn't pull away, he settled his mouth more firmly on hers, slipping his tongue between her lips with hungry demand, tempting the hunger to let go and follow him.
A blaze of heated arousal raced like a wildfire through her body. In an instant, she felt a surge of being alive that she had never felt before, and it felt marvelous. She didn't fight him. Instead, her fingers gripped his shoulders and her tongue welcomed his, drawing him into her with a rhythmic demand, urging him closer.
"You taste marvelous," he whispered. "Intoxicating."
She closed her eyes, savoring the feeling of his lips on hers. He had invaded her senses on every level. No man had ever affected her like him, not Diesel, not anyone. She felt every fiber of her body betraying her, calling out like a siren for his passion to meet hers.

Tagged As:
---
Genres
Fiction
Romance (Fiction)
Contemporary (Romance (Fiction))
Tropes
Different Worlds (Romance (Fiction))
Revenge (Romance (Fiction))
Characters
Rock Stars (Romance (Fiction))
Publisher Notes
---
This book is currently for sale on Amazon and as a Kindle Unlimited book that you can read free if you can't download the novel from this site.
This book appeals to the attitude and desires of today's woman who enjoys believable, self-assured characters exploring the rapturous promise of heaven-sent love in the setting of a forceful, fast-moving plot. Told through the eyes of different characters sharing a series of subplots, the reader is carried away to the lands and cultures of three countries. Thank you for reviewing my book! :)
Advance Praise
---
Perilous Circles opens with a bang and keeps the pace throughout the novel. Filled with tension and violence, Ms. Gilmore has created a novel that will keep the reader going long into the night. This reviewer finished the entire novel in one sitting. WARNING, this is a book that can make a person late for work! The background of Perilous Circles travels the world from the big cities of London and Los Angeles, to the countryside in Mexico. Ms. Gilmore has given her readers a glimpse into the lands of dreams. Each scene jumps from the pages into the reader's mind to paint pictures of places, most only dream of seeing. This reviewer highly recommends this novel to any reader of romantic suspense. Angie Dobson, Love Romances
Wow, what a story…this is one heck of a book not to be missed.
Donna Doyle, Romance Reviews Magazine
Perilous Circles is a wonderful, interesting, lighthearted novel. I could not stop reading it. The characters are so vivid, they kept my attention throughout the entire book. I actually cared about each and every one of them. Each scene is described in such detail, it's as if you're standing right there with them. I felt every emotion written. I even teared up during certain scenes. The budding relationship between Taylor and Craig is so sweet, and not in that sickening "oh please" kind of way. The British slang sprinkled throughout added a touch of realism to the characters. I highly recommend all romance lovers read Perilous Circles. You will not be disappointed. It is well written, has an easy flow to the story, and keeps your interest piqued the entire time.
Hattie Clark, Roundtable Reviews
Diane Gilmore has written a wonderful debut novel that will grab your attention, hold it strong, and undoubtedly leave you wanting more when you reach the end. Her descriptions are so vivid that I could almost feel the chill of London fog as I eagerly delved into the story. Perilous Circles has it all; the glamour and excitement of the entertainment world, the danger and intrigue of the drug cartel; love, deceit, heartbreak and revenge, all rolled up into one fast-paced entertaining read. I look forward to reading more from this new voice in romantic suspense.
Jill Terry, Author / Poet
Perilous Circles is a frightening novel that delves into drugs and the horror that being involved in that lifestyle can produce. Ms. Gilmore pens a novel that is serious yet touching in its intensity. This novel truly goes to show that one can never escape their past and that sins are paid for. However, the silver lining is that there are happy endings.
Ansley Velarde, Romance Junkies
Blue Ribbon Rating: 4 out of 5
Marketing Plan
---
Please place reviews on the Amazon site for my title:
https://www.amazon.com/Perilous-Pursuit-Diane-Gilmore-ebook/dp/B06VY3193G/ref=sr_1_1?ie=UTF8&qid=1489933614&sr=8-1&keywords=a+perilous+pursuit