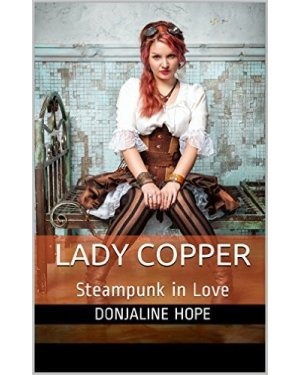 Lady Copper
---
Author: Donjaline Hope
Publisher: Self Published
ISBN: ASIN: B01F0AYG3G
more from this user
Description
---
Lady Copper Aertes is far from your typical lady. With a haunted past and secrets aplenty, anything could happen. After all, no one should be able to tell her she can't do something she is good at, right? Who cares that it's against the law.
Viscount Branton Bannister jumps in head first to save Copper, but did he get himself in over his head? His every thought consumed by her, he is determined to make her his wife.
Will they ever find their happily ever after?
Synopsis
---
Copper is trying to run from her current life with her father but she fears marriage. Branton finds her a challenge and wants to marry her. They get hitched, have many ups and downs, including fever, poisoning, kidnapping, and blackmail. In the end, Branton finds his pregnant wife.
Excerpt
---
Each new act that passed by them, brought a new spark for excitement. A pair of jugglers paraded by from a nearby booth, tumbling around them. Copper wanted to run after them and watch them more but the musicians called her back with each and every harmonious note. She clapped her hands as one of the tumblers began to tumble in front of her. The man flipped backwards until he was across the narrow road, then he turned around and cart wheeled back to her. Branton pressed some coins into the hand of each of the two men as they bowed before the bench. Her hands tapped out the rhythm to the music as the tumblers and musicians moved on to the next traveler filled bench. She never saw half the shine of the coins before they disappeared beyond the cloth of the men's clothing.
"Come," Branton said as he rose from the bench. "Tis time to go to the theater." He helped her to her feet, and she took it upon herself to thread her arm around his. Was that a tremble that she felt running down his arms? She'd have to think more on that later.
"As you wish," she replied sweetly.
"The theater is just a few buildings over from here," Branton informed her. "You can see it, over the top of that building there. It's one of the first buildings the Academy has gotten to hover in the sky. We will have to take one of the giant glass tubes to get to the top." She peered over the short line of buildings after Branton's fingers. The shock of the vision startled her.
"I see it!" she exclaimed. "How do they get it to remain in the sky?" Her brain began to analyze all the tubes and mechanics she could see. She wanted to run closer but she remembered she had to be a lady and slow down. Taking a deep breath to calm her excitement, she fell into an easy pace beside him.
Tagged As:
---
Genres
Fiction
Romance (Fiction)
Science Fiction (Fiction)
Steampunk (Science Fiction (Fiction))
Tropes
Sweet Romance (Romance (Fiction))
Characters
Aristocrats (Romance (Fiction))
Settings
Steampunk World (Fiction)
Marketing Plan
---
Looking for anything really- reviews on Amazon (if possible) or websites would be great. Tag book and author website.